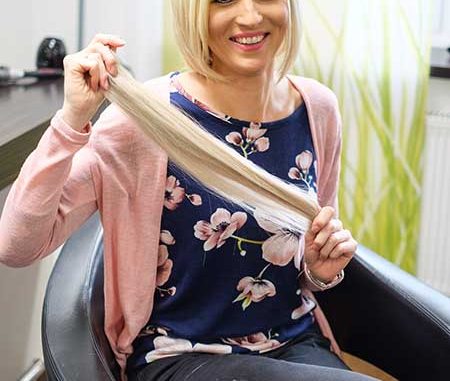 Would you like to donate your hair and do something good with it? In the following article we answer frequently asked questions about donating hair. A note in advance: Deutsche Krebshilfe does not accept any hair donations itself. This is because there are still many steps to be taken before a hair donation becomes a finished wig.
In this post you will find out how you can donate your hair and use it to help people with cancer.
DONATING HAIR – EVEN IN THE CORONA CRISIS: PLEASE PAY ATTENTION TO THE FOLLOWING INFORMATION
Whether cut off by the hairdresser or yourself – the following points are important so that your hair donation can be processed optimally.
HOW DO I DONATE MY HAIR?
There are basically three ways you can donate your hair: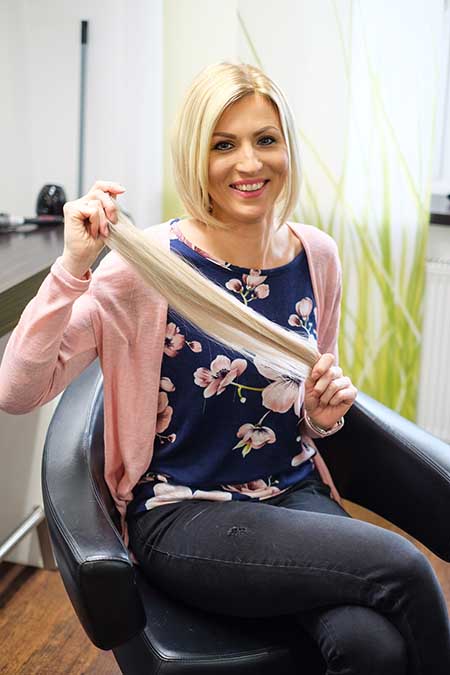 Cut hair yourself ➔ Send the hair donation with your contact details by post to our cooperation partner: 

Rieswick & Partner, Hüpohl 5 & 7, 46342 Velen-Ramsdorf

 (further information and form at www.haare-spenden.de)

Go to a hairdresser ➔ show the hairdresser the information ➔ send the hair donation with your contact details by post to the above address

Go to a hairdresser who, as a partner of a club or organization, offers hair donations ➔ they will then take care of shipping
WHICH HAIRDRESSER CAN I GO TO?
You don't need to go to a special hairdresser. Just ask your hairdresser if they can cut your hair according to the guidelines below.
HOW LONG CAN I DONATE MY HAIR?
The braid should be at least 25 centimeters long so that it can be processed further. For a hair donation with a length of 30 centimeters or more, Deutsche Krebshilfe receives a voluntary donation from its cooperation partner Rieswick & Partner.
Please note that the hair donation must always be a braid , ideally braided. If you have thick hair, you can also divide your hair into multiple braids. The hair length is measured from the top braid as shown in the picture. The hair must be cut above the braid . Since a few centimeters of the hair length are often lost during the production of the wig, it is helpful if the hair donation is as long as possible.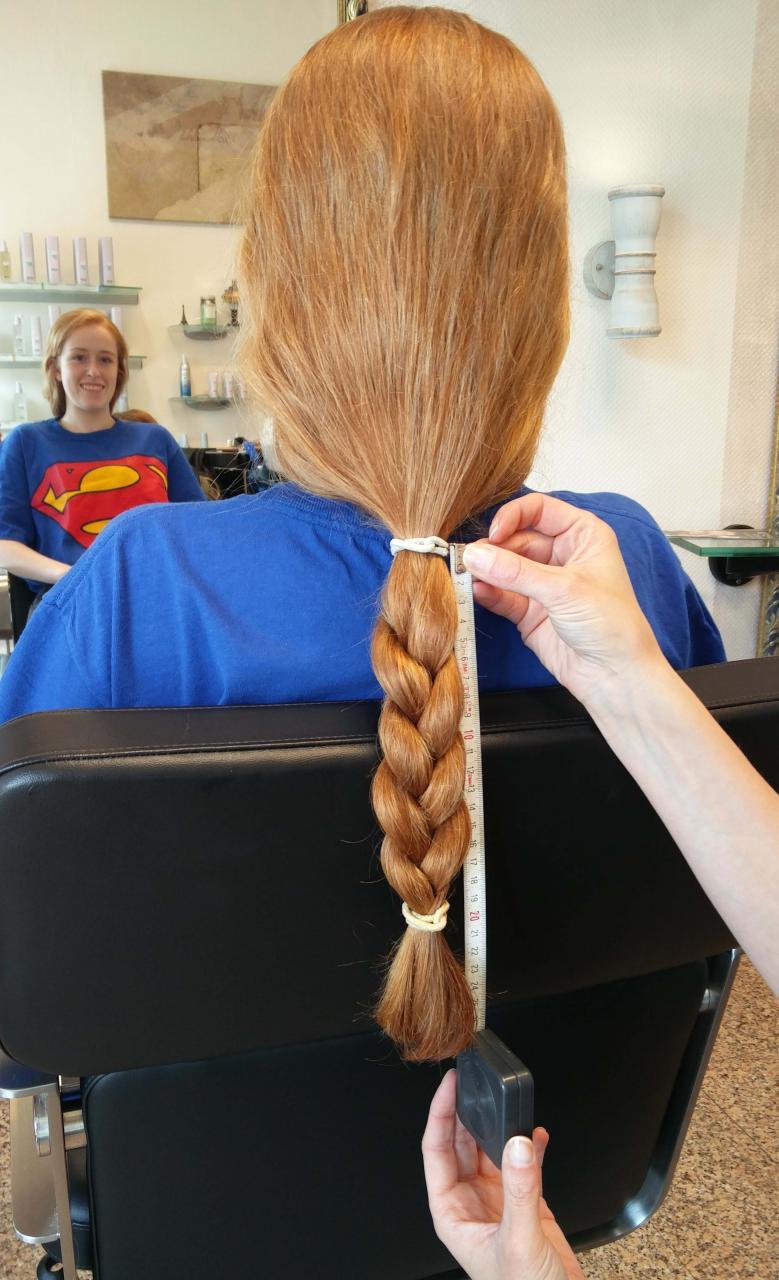 CAN I DONATE MY HAIR IF IT HAS BEEN DYED OR CHEMICALLY TREATED?
Dyed hair can be donated – however, it can usually only be used to repair older wigs. Dreadlocks, hair with chemical perms or permanently straightened hair are not suitable for hair donations. Unfortunately, hair that has been picked up from the floor and is messed up cannot be used either. Only braids can be made into wigs.
DOES THE GERMAN CANCER AID COOPERATE WITH WIG MANUFACTURERS?
The German Cancer Aid cooperates with the wig manufacturer Rieswick & Partner GmbH (www.haare-spenden.de). Rieswick & Partner makes a voluntary donation to the German Cancer Aid or the German Children's Cancer Aid for a hair donation from a length of 30 cm . The amount of the donation is determined by the length, weight, structure, color and general condition of the donated hair.
ARE HUMAN HAIR WIGS FREE FOR THE RECIPIENTS?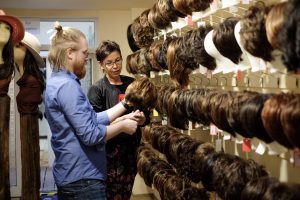 We are often asked whether donated hair reaches cancer patients free of charge. Basically it is like this: women can have a doctor prescribe a wig . In this case, statutory health insurances pay the costs or a subsidy for a wig. This also applies to children and young people. The situation is somewhat different for men, as some health insurance companies consider short-term hair loss during chemotherapy or age-related hair loss to be reasonable or acceptable.
For those affected, the following applies: Are you planning to have cancer therapy (e.g. chemotherapy or radiation)? Does experience show that the therapy results in hair loss? Then, before buying a wig, find out from your health insurance company the amount up to which the costs will be covered.
CAN I MEET THE RECIPIENT OF MY HAIR DONATION?
That is a nice thought, but unfortunately it cannot be realized. Since each wig consists of four to five hair donations , the recipient would have to meet with several hair donors – across Germany. In addition, they often need a lot of time and energy to cope with the strenuous phases of cancer therapy.
HOW IS A WIG MADE FROM DONATED HAIR?
From the hair donation to the wig – these are the individual steps: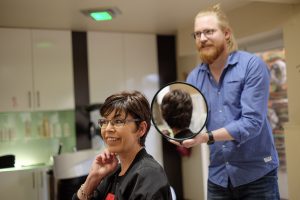 Cut or have hair cut

Send hair donation together with contact details

Braids are collected and sorted by length, structure, color, etc.

Four to five braids are tied onto a wig gear

The wig receives a (necessary) haircut and can be worn