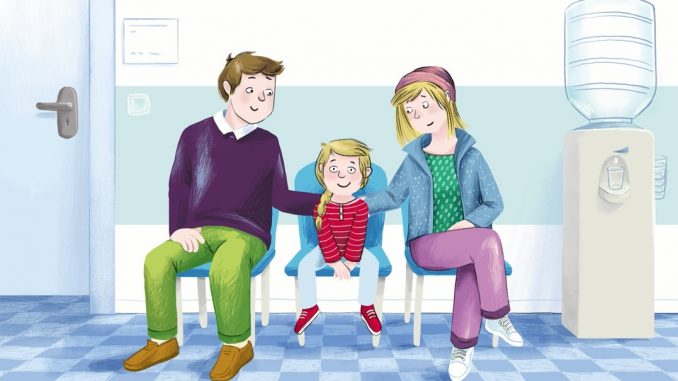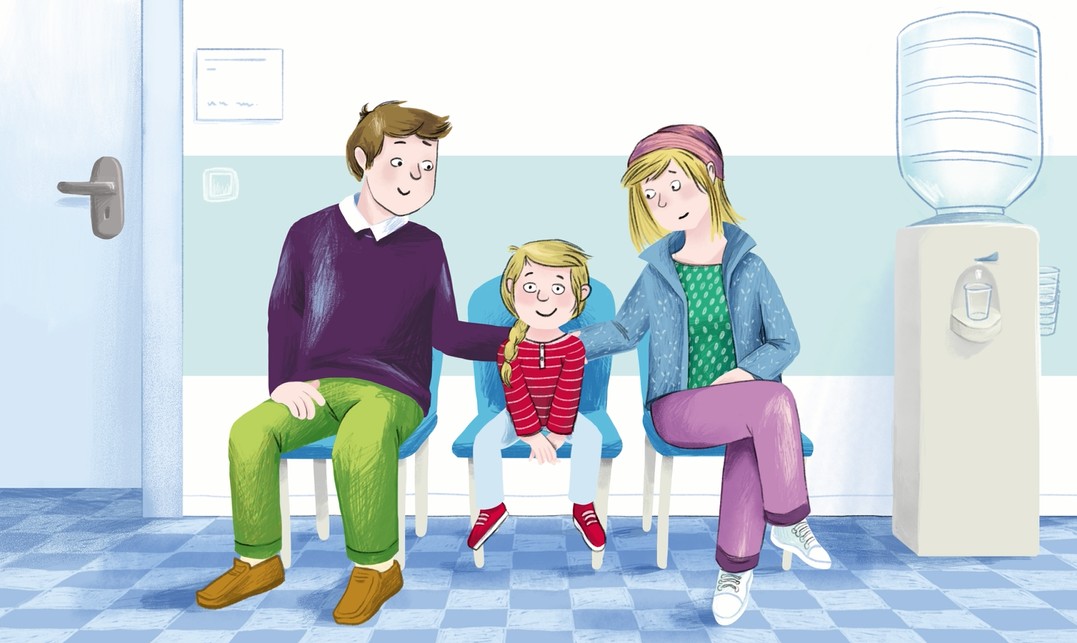 Explaining cancer to children is a major challenge for adults. But it is important to talk to children about cancer. In this article we will provide you with assistance.
"It's a lot easier to live with cancer when you can talk about it openly."
THIS IS WHY YOU SHOULD TALK TO CHILDREN ABOUT CANCER
With a diagnosis of cancer, families inevitably change. Children are very sensitive when it comes to change. You feel that something is wrong . If there is no discussion about it, children fill this void with their imagination, fears or even feelings of guilt. Teach your children about cancer, gradually and gently. This makes it easier for children to cope with the new situation .
CANCER EXPLANATORY VIDEO: HOW'S IT FOR CHILDREN?
Is Cancer Contagious? Is Cancer Bad? Why are you so tired when you have cancer? Children should n't be afraid to ask their questions. Because there are no stupid questions about cancer! In this video we show you which questions can arise and why it is important for children to be able to ask their questions.
BOOK TIP: WHAT ABOUT CANCER?
When children come across cancer – because they are sick themselves or a family member – they usually have many questions.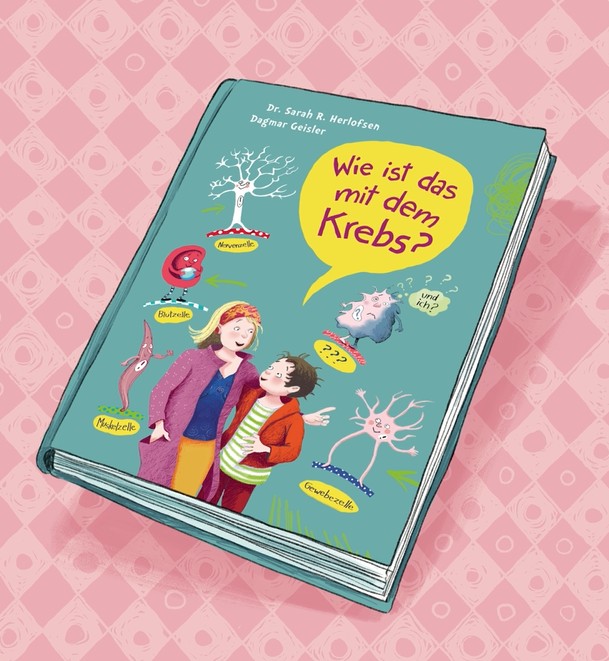 In the book " What about cancer ?", The author Dr. Sarah Herlofsen collected questions from children about cancer.
It shows what children think about cancer and explains clearly and in a child-friendly way what happens in the body when the disease occurs. Children learn how cells get sick and how we can help the body to get healthy again.
However, the book should also encourage people to speak openly about thoughts , fears and wishes , and thereby give the children hope and consolation.
VIDEO: EXPLAINING CANCER TO CHILDREN
What is it actually – cancer? Is Cancer Very Bad? And what can you do about it? In this first video, children receive basic information about the disease cancer – explained in child-friendly language.
VIDEO: IS THERE A CURE FOR CANCER?
What can you do if someone has cancer? Is there a cure for cancer ? Yeah yeah There are even a great many anticancer drugs. In this explanatory video we give an insight into the "means against cancer".
VIDEO: WHAT IS CHEMOTHERAPY?
Chemotherapy makes cancer "visible". One is tired and weak. Sometimes the hair falls out too . "Will it stay that way?" Or "Does it hurt if the hair falls out?" Are frequently asked questions by children. In this video you can find out what chemotherapy is, how it works and what children can learn about chemotherapy.
VIDEO: WHY DOES MOM HAVE CANCER?
Why does mom have cancer? Did she do something wrong ? Definitely not! This video addresses why cancer develops and that nobody is to blame for it.
VIDEO: SIBLING PERSPECTIVE
When a child develops cancer, it affects the whole family. First of all, everything revolves around the sick child – hospital stays determine everyday family life. Often the healthy siblings are neglected. Frustration, sadness and anger are quite normal feelings that many siblings of children with cancer have. This explanatory video is about the perspective of the siblings .
VIDEO: CAN THE BODY HEAL CANCER ITSELF?
The body is a master in it, to defend themselves . Whatever dangerous things get into the body – mostly viruses or bacteria – it finds and fights. But it's different with cancer, the body needs outside help .
VIDEO: RADIATION THERAPY, IMMUNOTHERAPY, STEM CELL THERAPY – WHAT IS IT?
There are many different cancers and hundreds of different ways to treat cancer. This video explains three types of therapy for children: radiation therapy, immunotherapy and stem cell therapy.
VIDEO: IS THERE A VACCINATION AGAINST CANCER?
Can you get vaccinated against cancer? Unfortunately, the answer is not that easy. We cannot be vaccinated directly against cancer cells. However, there are vaccinations against viruses that can cause cancer .
You can find the text of the video here .
VIDEO: CAN YOU DIE OF CANCER?
Can cancer be fatal ? Most of them manage to get well again thanks to medicine. Unfortunately, however, sometimes the art of doctors fails and people die.
EXPLAINING CANCER TO CHILDREN: WHAT SHOULD THE CONVERSATION LOOK LIKE?
There isn't just one right way to talk to your child about cancer. Still, there are a few pointers that can help you through this difficult conversation .
1ST POINT IN TIME
Don't let yourself be pressured. You should take the time until the diagnosis is confirmed and the very first reaction is processed. Then children should find out about the disease as early as possible. The rule of thumb should be " Better early than late. Better late than never . "
2. YOUR OWN FEELINGS
Children orient themselves to the behavior of adults. Talking about your feelings and fears can help children learn that they too can express their feelings .
3. PROVIDE AGE-APPROPRIATE EDUCATION
What do children need to know at what age? How honest should i be? These are not easy questions. The Cancer Information Service provides information about what should be explained and how, at what age, and distinguishes between the following age groups:
Toddlers and kindergarten children

School children

Teenagers
4. HONESTY BUILDS TRUST
As already mentioned, children, especially young children, do not need to know everything. But what you tell your children about cancer should be true . This is the only way to maintain trust between you and your child. Don't talk about things that are far away and unpredictable.
5. PERSISTENCE
Many everyday things change. Therefore, you should also talk to your children about what will not change . What changes, what remains?
EXPLAINING CANCER TO CHILDREN: PSYCHOSOCIAL HELP
Sometimes it is just too stressful for the person concerned to talk to the child about cancer themselves. The partner can sometimes provide the necessary support. But of course you can also get professional help . Accept help, you do n't have to do it all by yourself .
Here you can find more information about the psychosocial counseling centers .
EXPLAINING CANCER TO CHILDREN: FRIENDS AND THOSE AROUND YOU
Often relatives and families of friends want to help but don't know how. Besides, you do n't want to impose yourself . It can be good to talk to these people about the disease and perhaps ask them for support in everyday life , for example with shopping or driving services to go to sports. It is these little things that can "de-stress" everyday family life.
If a child is affected, friends may withdraw. They may be afraid to get infected or they may just not know how to deal with the situation . The absence of friends is extremely difficult for the children concerned. In these cases it can be very useful to seek advice from an expert . For example, it would be possible to invite an expert to the school to help educate the teachers and parents of other children.